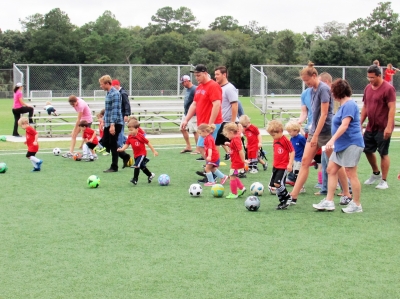 Mini Kickers is a six week program offered twice a year during the fall and spring recreational seasons. Mini Kickers takes place once a week on Fridays from 5:30-6:30pm at Gamble Rogers Middle School. Registration for the Fall Season is now open. The spring season will start Friday, March 8th, 2019 and will go till Friday, April 12th. To participate, all players must be born between 8/1/2014 and 7/31/2015.
This fun and energetic program will introduce our youngest players and their parents to soccer through age appropriate soccer activities and games that provide them with the opportunity to learn the fundamentals of soccer as they are eased into the dynamics of youth sports. Players will learn individual soccer skill while improving coordination and balance through story-based games involving dribbling and comfort with the ball, turning with the ball, scoring goals, running, jumping and tumbling, where the emphasis is always on having fun!
All sessions are led by the Mini Kickers Program Director. Each 50 minute session consists of activities and games followed by 3v3 scrimmages. Rather than being placed on teams, players are pooled together for each end of session scrimmage. This format allows our professional staff to be hands on with each player for the duration of each session. Parents are incorporated into each practice to create the most effective environment for the player's first venture into organized sports.
Cost:
$70 per season. You must register for the Fall and Spring season separately. Register online at www.ancientcitysoccer.com.
Program Format:
The first two weeks of the season is the introductory stage. Players will be introduced to cooperative play while learning basic soccer fundamentals through fun and engaging games. The last four weeks of the season is the game stage where the last 15 minutes of each session is designated "Game Time". Players will be split into teams of 4-5 players and will play against another group of players in a 3v3 environment! Cheer on all of the players as they take their newly learned skills into a low key but fund game setting!
Mini Kicker Requirements
Each player will need to bring to every session:
-Shinguards with soccer socks pulled up over the top!
-Cleats or tennis shoes are permitted
-Water bottle with water for hydration
*Players will receive their own Mini-Kicker T-shirt!